November xx, 2021 – Dallas, TX — TM Studios is proud to be partnering with the exciting new Rhythmic Christian format Boost Radio. Creating a suite of elements, sound design, ID's and jingles to help them brand the station in the major cities that the format is growing into.
Mike Couchman Program Director of Boost Radio commented "TM Studios xxxxxxxx."
Dave Bethell, Co-Owner of TM Studios Said "The brief was simple. Create memorable, hooky and catchy imaging that helps the station stand out, in a unique way. Utilizing talent in Dallas, LA, and in the cities Boost broadcasts to, we created a package of ID's part jingle, part sweeper, featuring vocalists, rappers, and Boosts' station voices. We loved the process, the team at Boost had a very clear vision, and it aligned perfectly with ours, it was a pleasure to work with Mike and the team"
Already on air, on Boost St Louis, Chicago, Twin Cities, Pittsburgh, Fayetteville NC, & Portland, Boost 2022 from TM Studios can be heard here -
About TM Studios
TM Studios is a full-service sound agency that creates and distributes audio branding products and services. Our sole mission is to help Radio and TV Stations, Agencies, Commercial Clients and Producers connect and engage with their audiences more effectively, more often. Heard by over 100 million listeners weekly, TM Studios is widely considered the gold standard in music branding around the world. With 50+ years of heritage and experience in the audio branding industry and a wide range of products to fit every production need and any budget, our team of expert producers, imagers, musicians, and engineers from our high-end studios in Dallas, LA and around the world are ready to take on your next project.
About Boost
Boost Radio is all about Pop. Hip Hop and Hope Music that moves you. Songs you can move to. And DJ's who keep things fun, clean, and positive. Nothing profane. Ever. BOOST exists to build our listeners faith, not tear it down. A lot of our songs are about your connection to God. Some are about your relationships with others. A few are honestly just good, clean, silly fun! Oh. And no commercials, ever. When we're not playing music, BOOST RADIO is trying to speak on things you care about.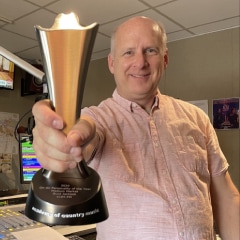 TM Studios has been an integral part of the sound and success of KiiM FM for years and TM Next takes things to the "next" level!
PD KIIM Cumulus Media - Tucson AZ